Now with a FREE 7-day trial. Get full access to all Strength, Conditioning and Yoga sessions. Start your free trial today!
Both options include a FREE 7-day trial
Looking to purchase a membership for someone special?
Wanting to add speed to your runs and beat your PB but don't know where to start?
Know you need to work on your strength and conditioning but putting it off?
Got a running injury that's stopping you from making progress?
Welcome to Strength, Conditioning and Yoga for Runners
Now with a FREE 7-day trial. There's never been a better time to join the SCY family.
Start your free trial today with any subscription!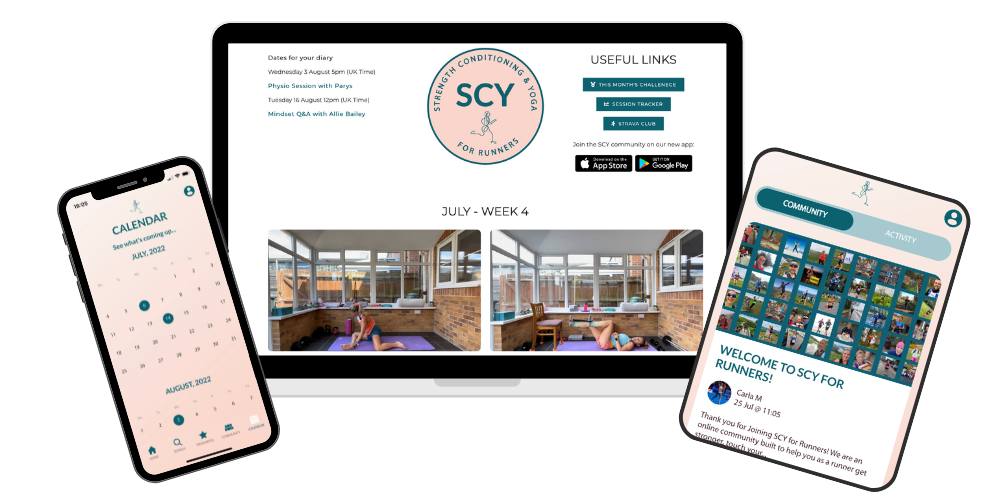 Imagine improving your form and endurance, without having to give up cake?!
As a professional runner and a running coach, I know Strength Conditioning and Yoga will not only help prevent injury, it will also make you a stronger, faster and more efficient runner. I also know that as a runner all I want to do is run. I don't want to stay at home doing sit ups and trying to reach my toes!
SCY is the first membership of its kind that not only teaches you how to improve as a runner, but keeps it fresh and interesting, and encourages you to find balance. I want to run. I want to eat cake!
I created SCY because I couldn't find this unique combination anywhere else.
"It helps you to remember that there's more to being a good runner than just running. Being consistent with the strength and conditioning has made a massive difference to my running" - Tara
"The results that I have achieved since becoming a member have been astonishing" - Mike
Join the SCY membership and;
Believe in yourself as a runner
Find your love of running all over again
Go from strength to strength
Bring balance back to your running practice
Get personalised support
Be part of a community that are cheering for you
Now with a FREE 7-day trial. There's never been a better time to join the SCY family.
Start your free trial today with any subscription!
For
only £9.99 per month
unlock instant access to the SCY Membership Group where you get:
Yoga for Runners session every week

Strength and Conditioning session every month, with weekly progressions

Access to the SCY App

Access to our private community and Strava Groups, welcome to your new running family! This active community is really special and brings so much motivation and support

Q&A session every month - a dedicated space to ask all your running, yoga and strength related questions

Special Guest sessions where you can "Ask the Experts"

Discounts with wonderful hand-picked partners (see below for more)
It's really important to me that our community goes from strength to strength, so we post fun challenges and prompts to make sure that everyone has a chance to get involved and make progress.
This is where you will get your questions answered, learn from what other members are doing, and cheer each other on!
"It's a small commitment with massive reward. Nowhere else have I found simple yoga or S&C bespoke for runners. It's great that it's not too extreme too - almost everyone will be able to take part. There's no expectation to be able to get your legs behind your head…" - Jamie
"SCY has given me confidence as a newbie runner and I feel stronger and healthier. Carla has been great at answering any questions and has lots of helpful tips. The community feel at SCY is really nice as well." - Sophie
Ready to improve your running today?
Start your FREE 7-day trial today and find out what you are capable of!
By signing up you confirm that you have read, understood and accepted the liability waiver.
RISK FREE. Cancel anytime - no penalties, no notice period, no stress
Hi! I'm Carla,
record breaking
ultra runner, adventurer and running coach. 
I started running at school when I was 15 by running around in circles and through muddy fields. From school I went to university in Cardiff where I studied Sports Science and took up triathlon. I went on to win my Age Group at the European Duathlon Championships and competed at three World Championships. 
In 2013 I entered the Glasgow Half Marathon and just loved the simplicity of running so I hung up my wetsuit, put my bike away and just started to run!
Since then I have gone on to get a Gold Medal at Comrades (the oldest and largest ultra marathon in the world), represent Great Britain at the 100km World Championships and get a World Record for running the length of Great Britain, where I ran 1,327km in 12 days, 30 minutes and 14 seconds!
I love seeing what my body and mind are capable of by racing hard and going on epic adventures!
With my running experience, sports science degree, personal training and yoga teaching qualifications I have put together sessions to make us all better, stronger and faster runners! Knowing how a runner's body feels and works I am here to guide you through and help you reach your toes again.
What kit and equipment will I need?

To get started I would reccomend the following

Yoga mat
Resistance band
Pillow (Just one from your bed)
Blanket (One you have lying about)
Books (any that you don't mind leaning on)
Belt
Water bottles

Once you are ready to invest in a bit more kit an equipment I recommend (but we won't be using equipment all the time):

Yoga block
2 x yoga bricks
Yoga strap
2 x dumbbells

With the S&C I will always show a body weight options and give you ideas on how you can incorporate weights into the programme without spending a fortune e.g. water bottles or some books in a backpack.
Are the sessions live or can I do them when I want?

All SCY sessions are pre recorded so you can watch the videos whenever is convenient for you and I will never delete the old ones so if you wanted to go back and do a session again you can. New videos will get posted on a Monday morning. The Q&A sessions are all live and I will save these so you can watch them at a later date if you want to.
How long are the sessions?

The sessions last between 25 - 45 minutes.
Long enough to make sure that you are getting a great strech or work out but not too long that you get bored and wonder off and make yourself a cup of tea!
Can I join if I am not a runner?

Of course you can! The programme is designed for athletes and if you run, cycle, swim, do martial arts, rock climb (the list is endless) you are an athlete! And you and your sport will definitely benefit from getting some Strength, Conditining and Yoga in your life. No matter what sport we do we all use the same muscles and you body will love you a bit more if you help to strengthen it up and stretch it out!
If I am not based in the UK can I still sign up?

Absolutely! You can join in from anywhere in the world and we would love to have you as part of the group!
How do I cancel my subscription?

When you sign up a reoccuring payment gets set up via Stripe, the payments are rolling each month. If you want to cancel, you can at anytime all you need to do is drop me an email and I will cancel the reoccuring payment for you or you can do it from the account section in your members space.
sign up to receive MEMBER DISCOUNTS
Life happens. Distractions happen. Don't let another month go by watching instructional videos on YouTube that aren't tailored to you and your unique scenario.
"SCY is a total game changer. I have tried to incorporate strength conditioning and yoga into my training for years, but just found it so boring that I never managed to do more than a couple of weeks, before giving up. But these videos are so stimulating, short enough to easily fit in, designed for all types of athletes, with adjustments that can be made if wanted. The exercises are so unique and dynamic. I love Carla's enthusiasm, and that it's ok to struggle to get into some of the poses which other yoga teachers do effortlessly. I love that it's especially designed to make me run better, and injury free" - Karen