Earlier this year Mike had hinted that he wanted to give a 100 miler a go. With his birthday looming I thought this would be a great birthday present…well I actually thought he might kill me but I entered him anyway.
Mike started to train hard for the 100 miler entering 24hr races and getting in the zone. He then asked me if I would pace him. I am not going to lie it took a bit of persuasion as I was getting massive FOMO and really wanted to race too. But as I had subjected to him to this I decided that I should be part of getting him to the finish line and it would be really interesting seeing the race from the other side.
As the race drew nearer, I was a little concerned that I wouldn't be able to make sure that Mike was getting all his nutrition in as well as being on the ball running with him for the last 50km. We put a shout out to see if anyone could help. Step in Risa! Russell and Lisa were meant to be going down to race anyway but unfortunately Lisa had to pull out due to an injury. So, they said that they were more than happy to jump on the support crew.
Mike started to set his race goals and decided that he wanted to try and finish in under 24hrs. 100 milers are totally unpredictable and we had no idea how he was going to do, when he would start to fatigue etc. so we put the best plan in place that we could. Russell, Lisa and I would take it in turns to resupply Mike throughout the night and then from 80km Russell would run the first 17km, Lisa would run the next 13km and I would run the final 50km.
Throughout the night Mike managed to stay ahead of his targeted time which was great. There was pressure to be at the aid stations in time but we could let him take his time to eat, drink and chill out for a bit before hitting the road again. We had also built in an hour buffer which wasn't being touched yet.
As the sun rose the heat came. It was an extremely hot day, peaking at around 36 degrees which made it 10 x harder for the runners than it needed to be! The heat started to take its toll and at each aid station we started to slip into our buffer.
At about 8am I took over from Lisa at Bushwillow, ,110km into the race. I could already see that Mike was in the pain cave. I mean after running 110km wouldn't you be? I was trying to motivate him and have a chat but could feel pretty early on that he just wanted to be left alone. This was pretty hard for me as I felt like there was no point in me being there. I really didn't feel like I was making and difference and this was a bit disheartening.
As we continued towards Rockwood I could see that we were slowing and that we had pretty much eaten away the whole buffer. Getting to 24hrs was going to be a real push but I was going to do anything I could to help get him there.
After Rockwood things changed and I felt like I had started to help Mike. The road was more runnable so we could move a bit better. I was constantly looking at the timings I had scrawled on my arms and trying to figure out if we could make some time back. We started to claw it back slowly which was great. We even smashed out some 6 min/km. When Mike asked how fast we were going I just said 8min/km because I didn't want to freak him out, as that was way faster than any pace we had agreed but we needed to get moving.
Then we hit another bad patch and Mike said something along the lines of just chill if I make it in 24hrs fine but I don't care anymore. This made me pretty emotional and I might have shed a tear or two. It felt funny to get emotional as the pacer but I could see how close he was to getting 24hrs and I knew that if we kept on pushing, we would make it. If we stopped pushing, we were only just going to miss it and I knew that a week or so after the race Mike would have been gutted if he had missed it by 10mins. I felt that I just had to keep him moving and that hopefully he would get out of the bad patch.
As we were approaching the final aid station I text Russel saying 'Please have the drinks ready to go. We are going to have to get him out of the aid station as quick as possible to get him in under 24hrs. We need to be team Ferrari' Russell was there ready and waiting and ran around like a maniac getting potatoes for mike and filling up his bottles. After a short stop we were back on the road with 17km to push to the end.
We started to run down this lovely forest path and ended up missing a turning, this cost us about 10 minutes and I was gutted that I had lost us so much time, this could be the difference between finishing under 24hrs or not. Anyway, we carried on and as night time arrived we put on our headtorches and kept our eyes peeled for reflective markers to lead the way. Suddenly I heard "babe just slow down". Oops guess I had been pushing us a bit too hard. We wound our way along a contour path where you could hear the finish across the valley and just hoped we would get there soon.
With 4 km to go we had started to walk and seeing the clock ticking away we had to get running again. So we started to run and then spooked a heard of Zebra's who were hiding in the bushes. They completely freaked out started running around like headless chickens and and nearly took us out in the process. Luckily we managed to escape their charging as that would have been a pretty bad end to the race! 2km to go and it was all downhill from here. We started to run and hear the finish line getting nearer and nearer. Suddenly we rounded the last corner and crossed the line in 23hrs and 50mins. I was so bloody proud that Mike got in under 24hrs in his first 100 miler and in that crazy heat. I obviously cried again!
Never have I felt so much pressure to get someone to the finish line in a race. And with us continuously going over and under that magic 24hrs I was nervous that we might not do it! But we did! Well done to Mike for smashing the race and a huge thanks to Russell and Lisa for being a huge part of the team, we couldn't have done it without you!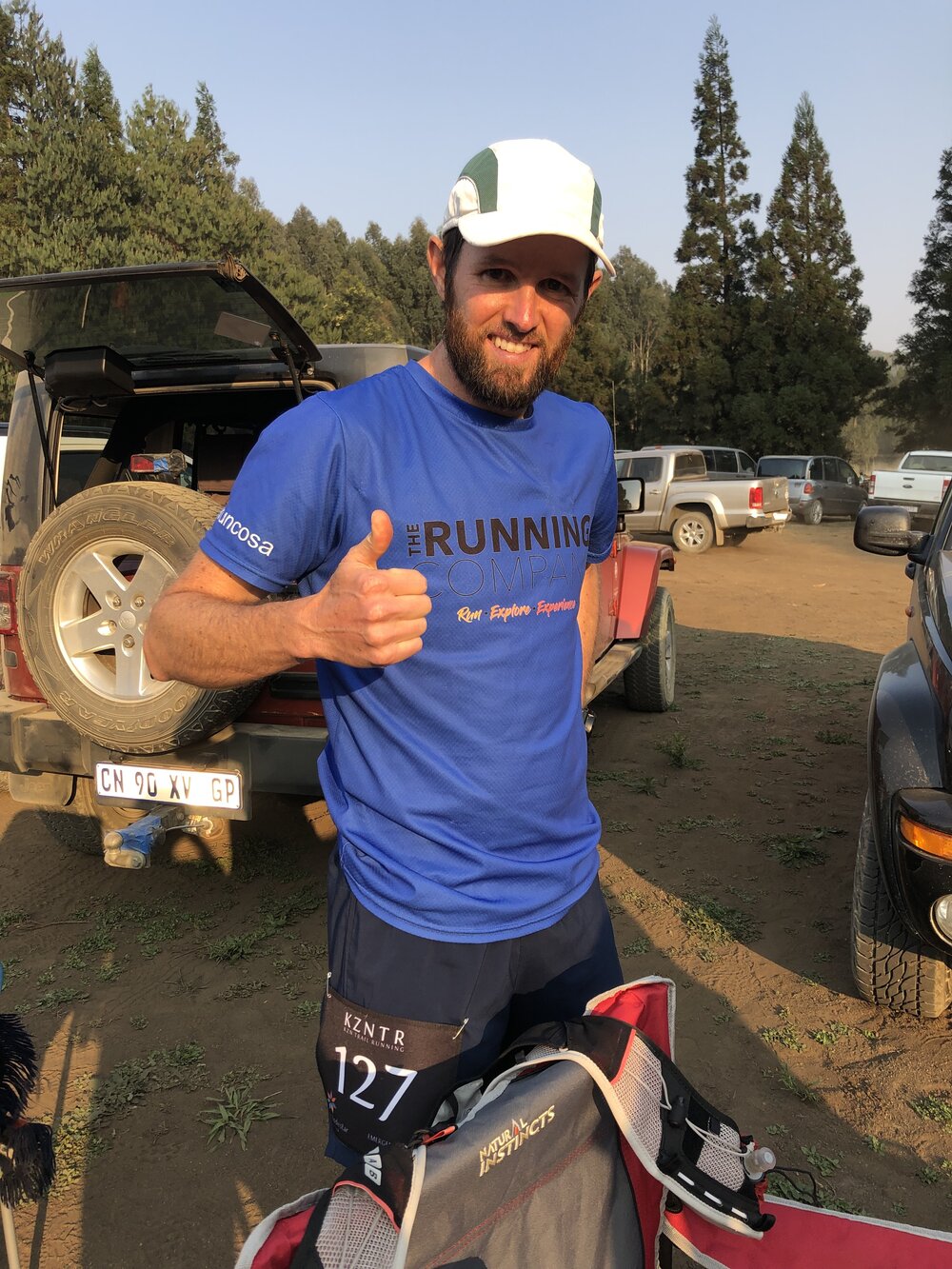 Top Tips for anyone taking on pacing/crew duties:
Set an A, B and C goal from what you want to achieve from the race (you never know what is going to happen over 100 miles so it is good to have other goals that you can switch to should you need to).
Strike a deal with your pacer before you start. Let your pacer be in charge of pace and eating and drinking so all you just have to think about running. When they tell you to eat and drink then do it and make a pact to stick to it. It will be hard because there will be times when you don't want to listen but if you don't have to make those decisions it will make your life so much easier.
Also just before you head into an aid station take your pack off and your pacer can then top up your drinks and food supplies whilst you sit on a rock and wonder why you signed up to this!
Don't take anything personally, your runner will be going through an emotional battle and might say things they don't mean. Just brush it off.
Have fun! Try and have as much fun as possible whilst you are out there. If you are having fun and remaining positive the swill rub off on your runner.