Running Coaching
I love running and over my 20+ year running career I have gone from a complete beginner to an elite athlete reaching the pinnacle of running representing Great Britain at the 100km World Championships. I use this experience together with my formal training to provide running coaching for everyone from complete beginner to experienced athlete! Whatever your goal is I can build you a personalised training programme. Together we will set goals and I will develop a training program for you to achieve them. Of course it is not just about the training programme you have to be ready to put in the hard work; but trust me if you do you will be amazed at the results. I will structure your plan around your life, work, family and other commitments so that it is realistic and achievable.
My qualifications:
BSc (Hons) Science in Health Exercise and Sport
UK Athletics Coach
Level 3 Yoga Teacher
Level 3 Personal Trainer
Sports Massage Practitioner
HOW IT WORKS
After contacting me via email, I will get in touch to arrange a time to chat for an hour or so, we will discuss your background, strengths and weaknesses and what your running goals are. I will then make you a bespoke running programme to help you achieve your goals!
All you need to get started is a GPS watch and some running shoes. I will deliver your programme through Final Surge an online coaching platform that links to your Garmin Connect/Polar Flow, etc. account. You will view all of your training here.
All my coaching is bespoke and tailored specifically for you. Whether your goal is to get to that marathon start line, complete your first ultra or maximise your athletic potential, I can help, so please get in touch today!
COACHING OPTIONS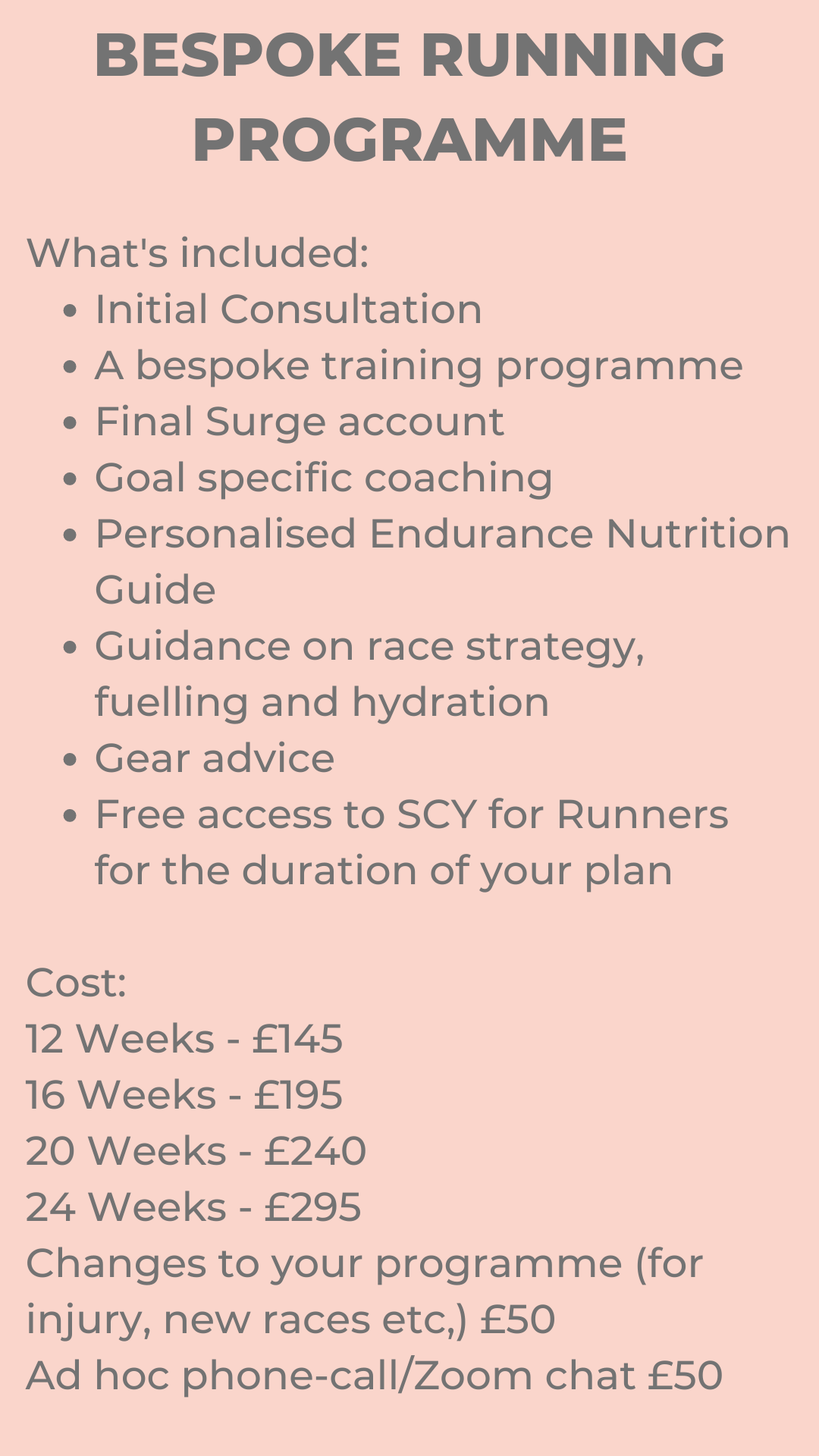 WANTING TO ADD SPEED TO YOUR RUNS AND BEAT YOUR PB BUT DON'T KNOW WHERE TO START?
KNOW YOU NEED TO WORK ON YOUR STRENGTH AND CONDITIONING BUT PUTTING IT OFF?
GOT A RUNNING INJURY THAT'S STOPPING YOU FROM MAKING PROGRESS?
THEN COME AND JOIN STRENGTH, CONDITIONING AND YOGA FOR RUNNERS!
SCY is the first membership of its kind that not only teaches you how to improve as a runner, but keeps it fresh and interesting, and encourages you to find balance.