As the world went into lockdown because of COVID-19 I decided to plan an adventure. I had been training hard and was fit then all of a sudden I had all this free time with no races on the horizon.
I started to look at maps and all of a sudden LEJOG jumped out at me. I started planning and kept everything crossed that the lockdown restrictions would be lifted in time for me to kick start my adventure. Luckily they did and on 16 July I set off in attempt to break the World Record running from Land's End in Cornwall to John O'Groats in Scotland!
12 days 30 minutes and 14 seconds later I arrived in John O'Groats setting a new Ladies World Record in the process!
Every single step of this journey hurt, it was a physical battle to get to the end but I embraced the pain and pushed through to the very end!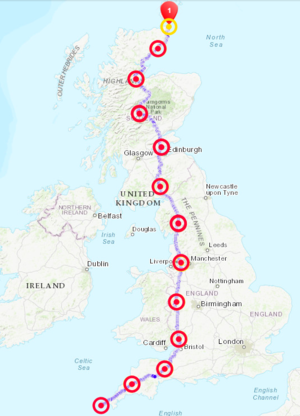 READ ALL ABOUT IT!